Scrum Cooking with agile experienced Teams
A reunion and getting to know each other after more than two years
It was a reunion and getting to know each other when the 42 team members of the international BSH Digital Factory met with Industry i.40 teams after more than two years for a teambuilding workshop in Munich. On the first day, led by Agile Transformation Coach Dr. Katharina Wirtz, a Scrum Cooking Workshop was on the agenda:
have fun together, cook and enjoy
experience your own team power
learn agile methods
The next day was well attuned to the development of vision, mission and a strategic roadmap.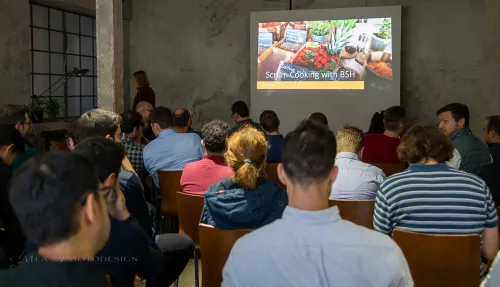 What else can an agile experienced team learn from Scrum Cooking?
What is agile methods like Scrum all about? In development, for example, we deal with tasks every day that others would probably rather divide into two categories: namely "unsolvable" and "unforeseen". With Scrum, such requirements can be implemented creatively and efficiently in a team. The scrum-experienced BSH team was able to experience first-hand how realistically a scrum cooking workshop reflects these facts: Driven by the enthusiasm for cooking, the team created a few delicious "add-ons" in the first sprint after completing all planned tasks in consultation with the product owner. Only to realize in the next Sprint that the resources are finite – more precisely, what would have been needed for further recipes has already been overcooked. What now? No, – no one had to go shopping. Better: the team used their talent for improvisation and took on this challenge. Without further ado, the recipes were modified and "reinterpreted". As they say, it's the result that counts, and it was outstanding! Praise and thanks to the cooks! And what did we learn? The agile methodology gives us a framework for finding solutions – complex questions garnished with chaos are provided by (working) life itself.